It comes in all shapes, sizes, and flavors. I'd bet nearly every person you know has their favorite kind. It's fudge! There's chocolate fudge, vanilla fudge, peanut butter fudge, chocolate caramel fudge, mudslide fudge, and we can't forget chocolate chip cookie dough fudge! Yes, you heard right...chocolate chip cookie dough fudge. Sounds pretty irresistible, doesn't it?
This month's Crazy Cooking Challenge, hosted by Tina at
Mom's Crazy Cooking
was to scour the web for the best fudge recipe. I tell you, I think I struck gold! I saw this recipe on Bridget's blog,
Bake at 350
, and I immediately knew this was my recipe. It was everything you ask for in a fudge, creamy, sweet, melt-in-you-mouth, delicious! It tasted just like a scoop of fresh cookie dough.
Fudge makes a perfect Christmas gift, so what are you waiting for? Wipe the drool from your chin and get baking!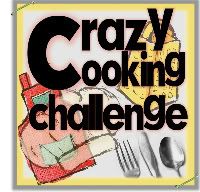 Don't forget that you can vote for your favorite recipe by clicking "like" under each picture. My recipe is #9 and I'd love to have your vote :)
Chocolate Chip Cookie Dough Fudge
Makes 64 1" pieces
oil for the pan
1-3/4 c. sugar
3/4 c. dark brown sugar
1/2 c. cream
1/4 c. milk
1 Tablespoon corn syrup
3/4 teaspoon salt
2 Tablespoons unsalted butter
1 tsp. vanilla
1/2 c. flour
1/3 c. semi-sweet chocolate chips
1. Lightly oil a 8x8" pan.
2. In a medium saucepan over medium heat, combine the sugar, brown sugar, cream, milk, corn syrup, and salt. Stir occasionally with a heat proof spatula.
3. Boil to 242 degrees, stirring frequently.
4. Remove from heat and stir in the butter, vanilla, and flour.
5. Pour the syrup into a 9x13" pan and let it sit for 20 minutes, or until it cools down to 110 degrees.
6. Scrape the syrup into the bowl of your stand mixer.
7. Using your paddle attachment, beat the syrup on medium speed for 3 to 5 minutes, until fudge thickens and holds its shape.
8. Scrape into prepared 8x8" pan and spread evenly.
9. Sprinkle with chocolate chips and press them lightly into the fudge.
Let the fudge set and cool for at least 2 hours before cutting into. Store in an airtight container.
Source:
Bake at 350