When I think of comfort food, one of the first things I think of is homemade chicken noodle soup. It's the perfect food to enjoy during a cold winter day.
This month's Crazy Cooking Challenge was to find the Ultimate Chicken Noodle Soup recipe. I think I've hit the jackpot with this one! This is a really basic soup, just chicken, noodles, carrots, and broth. I served it with some French bread, and it made for a delicious dinner.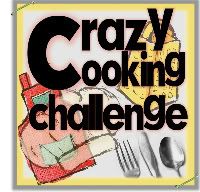 I found this recipe on Laura's blog,
Heavenly Homemakers
. She has so many recipes on her site that are both good for you and delicious. I really encourage you to stop by and visit her! In her original recipe, she suggests making your own chicken broth, but because I was using chicken breasts, not a whole chicken, I used store-bought broth. I used the
whole wheat noodle recipe
that I shared yesterday and Mike and I both loved this recipe.
Chicken Noodle Soup with Homemade Noodles
Serves 8
You will need:
8 cups chicken broth (homemade or store bought)
3 carrots
1 recipe
whole wheat homemade noodles
2 cups cooked chicken, diced
sea salt
1. Peel and chop carrots into bite-sized pieces.
2. Pour broth and carrots into a large pot. Bring to a boil and boil for 5 minutes.
3. Add in chicken and noodles. Salt as needed.
4. Simmer soup for 15-20 minutes, until noodles are fat and tender.
***Don't forget, you can vote for your favorite recipe by clicking "like" under the picture. I'm #15 and I'd love your vote :)