This cake combines one of Mike's favorite things, Root Beer, with one of my favorite things, chocolate. Put them together in a cake, and you end up with a delicious dessert that people can't stop talking about!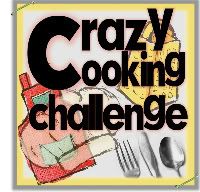 When Tina announced that February's Crazy Cooking Challenge was Chocolate Cake, I set out on a mission to find the best chocolate cake on the Internet. Mike is not a big fan of cake, so my mission was to find a cake he would enjoy too. I came across this cake at
Brown Eyed Baker
and I knew my search was complete! I immediately pinned it to my "Recipes for Mike" board on Pinterest. (Are you on Pinterest? You can find me
here
.)
Just as I thought, this cake certainly did not disappoint! The cake itself was very moist and you could certainly taste the root beer in it! The frosting was also delicious, I had some left over and it's fantastic on graham crackers. As
Michelle
stated in the original recipe, the flavor certainly does intensify as the cake sits. I made this cake on Saturday and let it sit overnight until Sunday afternoon. I brought it to my parent's house for dessert and then to Mike's grandma's for dessert (twice in one day!). It got rave reviews at both places, and the leftovers were delicious on Monday too.
You'll certainly want to serve this decadent cake with a scoop of vanilla ice-cream. It's a new way to enjoy a root beer float!
Chocolate Root Beer Bundt Cake
Makes 1 10-inch Bundt cake, approximately 12 servings
For the cake you will need:
2 cups regular root beer
1 cup cocoa powder
1/2 cup butter, cut into 1-inch pieces
1-1/4 cups granulated sugar
1/2 cup brown sugar
2 cups flour
1-1/4 teaspoons baking soda
1 teaspoon salt
2 eggs
For the frosting you will need:
2 ounces dark chocolate, melted and cooled slightly
1/2 cup butter, softened
1 teaspoon salt
1/4 cup root beer
2/3 cup cocoa powder
2-1/2 cups powdered sugar (I actually ran out and used only about 1-1/2 cups giving me a thinner icing, which I really liked)
1. Generously spray the inside of a 10-inch bundt pan with nonstick cooking spray.
2. In a medium saucepan, heat the root beer, cocoa powder and butter over medium heat until the butter is melted.
3. Add the sugar and brown sugar and whisk until dissolved. Remove from the heat and let cool, about 10 minutes.
4. In a medium bowl, sift the flour, baking soda and salt together.
5. In a small bowl, whisk the eggs until just beaten, then whisk them into the cooled cocoa mixture until combined.
6. Gently fold the flour mixture into the cocoa mixture. The batter might be slightly lumpy, which is okay (just try to avoid any large chunks of flour).
7. Pour the batter into the prepared bundt pan and bake at 325 for 35 to 40 minutes, until a knife inserted into the middle of the cake comes out clean.
8. Cool cake in the pan for 10 minutes and then on a wire rack until completely cooled.
9. While your cake is baking (or cooling), make the frosting. Combine cooled dark chocolate, butter, salt, root beer, cocoa powder, and powdered sugar in the bowl of your mixer and mix until completely combined and shiny.
10. Use a spatula to spread the fudge frosting over the cake in a thick layer, or pour over cake if you choose to make it thinner like mine. Let the frosting set before serving.
Serve with vanilla ice-cream. Store leftovers wrapped well or in an airtight container at room temperature.
Source:
Brown Eyed Baker