It's the 7th of the month (already!) and that means it's time to reveal my recipe for July's Crazy Cooking Challenge. This month's theme was fried chicken. I'll admit--it's not something we usually eat in our house. It was fun to search other blogs for a delicious fried chicken recipe.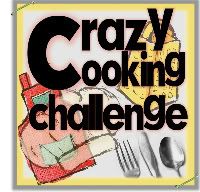 I found a few that looked delicious, but didn't seem too special. And I wanted something really unique. When I came upon a recipe for Coconut Fried Chicken at Jan's Sushi Bar, I thought it would be perfect! I took it one step further and fried the chicken in coconut oil. Do you know how good coconut oil is for you? The health benefits and uses are incredible!
This chicken was delicious! The coconut flavor really shined and the chicken was incredibly juicy. I would recommend using unsweetened coconut (that the recipe called for) instead of sweetened. I only had sweetened in the house and I think the sugar caused it to blacken. The flavor was still delicious!
Double Coconut Fried Chicken
Serves 6
You will need:
12 chicken drumsticks, skins removed
2 large eggs
1/2 cup water
1/2 teaspoon dried basil
1/2 teaspoon dried oregano
1/2 teaspoon ground black pepper
1-1/2 cups flour
1 cup unsweetened shredded coconut
1-1/2 teaspoon salt
1 cup coconut oil
1. In a medium mixing bowl, combine the eggs, water, and spices. Whisk until well blended.
2. In a shallow pan, mix together the flour, coconut, and salt.
3. Heat the coconut oil in a large, heavy skilled over medium-high heat until it reaches 350 degrees.
4. Working in small batches, dip the chicken drumsticks into the egg mixture, then transfer to the coconut mixture.
5. Coat each strip lightly but evenly with the coconut mixture, using your hands to help the coconut adhere to the chicken if necessary.
6. Place drumsticks in the skillet and fry until brown and cooked through, about 15 minutes.
7. Remove to a plate lined with paper towels to absorb any excess oil.
8. Continue dipping and frying until all the chicken drumsticks are cooked.
Source:
Jan's Sushi Bar